Course details
Tosa Jiro and Tataki for bonito ♪ 2 hours Drinking and drinking course 5500 yen ⇒ 4500 yen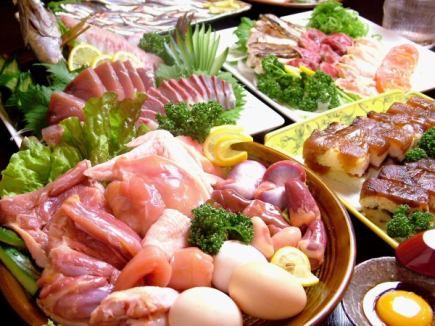 All-you-can-drink available

All you can drink beer, shochu, cocktail, shochu, plum wine, local sake, sake, soft drinks !!
Reservation deadline

Until 14 o'clock on the day of visit to the store
Available days for reservation

Monday - Sunday - Public holidays - Holidays
Enriched course contents that you can enjoy carefully selected ingredients! Because you can also charter from 10 people without hesitation, also at drinking party with mutually friendly parties at company or workplace ♪ Add drinks menu as well as cocktail! Please tell at the time of reservation
Course menu
※ If you wish to charter, please be sure to tell when making a reservation.(It may not be possible to make a private offer unless you tell it)
【One case】
■ Tosa's three kinds of knockouts (bonito · boiled ... etc)
Fortune of the sea representative of Tosa ... luxury that can be eaten 3 kinds ....
■ Seasonal fresh fish sashimi assorted
Assorted sashimi with fish that I think is the best in Kochi prefecture now!
■ Deep-fried food of the day
■ Special Kamisawa Beef or Tosa Akushi Salt-grill
Salt-grilling making use of the natural flavor of the lean body of Tosa Akagi! Like many repeaters ...
(If there is no arrival of Tosa Akashi, it will be Tosa Wagyu)
Assorted sushi
■ Tosa Jiro's skewer platter platter
I loved Sakamoto Ryoma, finished deliciously with skewered Tosa Jiro, the original flavor of the locally chicken being condensed ♪
■ Today's Kochi vegetable careful selection salad
Vegetables are also produced in Kochi Prefecture.I am delicious because I am buying seasonal delicious vegetables.
■ Primary dessert
Seasonal fruits from Kochi Prefecture ♪ Please eat after meals ...
Etc ... All eight items
* There may be changes in the menu depending on the time.
※ + 500 yen for seafood hot pot or Tosa Jiro cooked in or chicken local chicken's hunting pans or kimchee pots etc
Can be with a pot!
* If you have anything else you would like to drink in Shochu, feel free to consult the General !!
※ "Tiny Store Shop Yaki, Ei For Year End Party, Welcome Party, Farewell Party
The thing that can be done is easy to do, consult the secretary freely and feel free ~ (Tosa dialect) from the general
All-you-can-drink menu
·beer
· Asahi draft beer
· Shochu high
· Yuzu / Lot / Giant Peak / Plum / Lime / Shikwasa / Mango / Calpis
·Cocktail
· Madame Rose / Cassis Orange / Cassis Oolong / Cassis Soda / Peelon / Fazy Nieble / Moscow Mule / Screwdriver / Gin Tonic
· Shochu (Request OK)
· 【Chestnut】 Davada fire swing 【potato】 Kaoru of the west sea / sweet potato sauce / platinum dew black / kiroku / Mount Takaradono / Kikuchi Baoshan / White koji mushrooms / black kojirushi / Tanbana 【Wheat】 Nami ni / After the dream / If only a little, Sato's wheat)
·Plum wine
· Plum inn / / Plum wine / Aoshani plum wine / Aged plum wine / Yamato plum wine (Old castle plum)
· Local sake · Sake
Tosa crane
·Soft drink
· Cola / Orange / Calpis / Mango / Oolong Tea
2018/11/07 update